Ray & Pat Smerge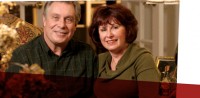 Ray: It took me 34 years to reconnect with NIU. I graduated from NIU in 1967 and from law school in 1971, and then focused on family and career. In 2001, I was invited to join the Liberal Arts and Sciences Advisory Council and saw how the academic experience that NIU provided was changing people's lives.

I like the culture here, and I want to help NIU compete with other schools in the state for top students. What better way is there to make a difference than by supporting education?

We never saw ourselves as million dollar donors, but as we became more involved with NIU, we saw an opportunity to start creating the kind of endowment support that this school deserves and needs. And we also felt that this was a way to say thank you to NIU for the education and opportunities the school gave me. We are delighted to be a part of this group and the exciting things that are happening at NIU.

Pat: We are so proud to be part of NIU as it grows into what will be a world-class university. Ray got a great education here, and when we renewed contact with the school, it didn't take much convincing for us to get involved. The more I learn about the people at Northern, the more I am amazed at all the different things they're doing, the opportunities they're creating. NIU is a diamond in the rough.