Grant Simmon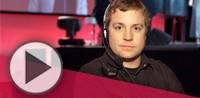 Volunteers make a difference at NIU

When Grant Simmon, '00, isn't directing events like Lollapalooza, the Hangout Music Festival, or President Obama's inauguration, he's setting the stage for an event that's a little closer to home, and his heart: the NIU Foundation Red and Black.

When Grant Simmon directs a show, he believes anything is possible. He thinks of restrictions such as budget, time, and gravity as challenges that make the process even more fun.

When scholarship recipient Moonja Jeong, '12, stepped into the spotlight at the 2012 Red and Black, her goal was to deliver a performance that would show her audience her profound gratitude. Little did the rising star know, she had Grant Simmon working behind the scenes making sure the moment was as big as her beautiful voice.

Simmon enjoys making NIU students, faculty, and standout philanthropists shine. So much so, that since 2009, he has volunteered as technical producer for the Red and Black, the NIU Foundation's annual event showcasing the university. Simmon performs his volunteer service as a proud member of the event's planning committee, which is co-chaired by Ellen Chessick and Jeff Yordon, '70. Coordinating the event is a big job; it requires hundreds of hours of planning, set design, staging, lighting, audio engineering, and rehearsals.

"Grant and his crew are the first on site and the last to leave," says Abby Dean, associate director of donor relations. "He gets to the hotel the day the equipment and crews arrive and doesn't leave until the trucks are loaded back up."

The acting graduate says he thrives on the challenge. Simmon got a chance to thrive last year when it became clear that Moonja Jeong's vocal performance would require a grand piano. "There was no way we could have our star standing in front of a keyboard," he explains. However, renting a piano would be far more expensive than a keyboard and there were other logistical concerns. "Even if we could build a stage that would support a grand piano, we'd need a forklift to get it up there."

Yet, by all appearances, Jeong performed next to a full-sized grand piano on February 18. Little did the audience know, the piano held a little secret. Simmon had built a facade to disguise that lightweight, cost-effective keyboard. "I don't think anyone knew the difference," laughs Simmon.

Everyone involved agrees having Simmon around not only makes the Red and Black program possible, it makes it less stressful. "We all feel at ease knowing Grant is running the show—from crew call until the credits roll," says Mallory M. Simpson, president of the NIU Foundation.

Yet, even a seasoned pro like Simmon gets a little rattled right before the show. "There's nothing fun about the hour before opening night," he admits. "I'm nervous. You'd think I was going out there on stage to sing myself!" Of course, he's exhilarated by the pressure.

Simmon says that hands down, the greatest thrill of the process is the outpouring of emotion that comes from the audience. "It's magical when they're wrapped up in a moment we've worked so hard to create," he says. "It's especially rewarding when that emotion is for my alma mater."

Although Simmon donates his time, the event still comes with a price tag. Equipment rentals and staging costs add up, which is why securing sponsorships is a major focus of the Red and Black committee's efforts. When it comes to finding sponsors, no one holds a candle to committee co-chair Jeff Yordon. Last year, he raised more than half the show's budget. "There's no way we could put on a program of this caliber without underwriters," explains Simpson. "The Yordons have given NIU so much, and Jeff isn't shy about asking others to join him in support of NIU. We are very grateful."

Simmon says he enjoys the "creative negotiation" involved in making Red and Black planning committee members' ideas a reality. With every decision he makes, Simmon guards each dollar the committee raises. "I welcome the challenge of figuring out how to accomplish great feats on a tight budget."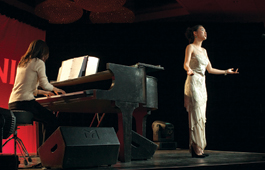 Delivering a memorable show is in Simmon's genes. In fact, his parents, Jaymie, '70, and Harry, '69, Simmon, created the show template Grant uses today. Jaymie explains, "Harry and I felt that the Red and Black was always fun, but we could help make it really special, so we volunteered to produce it like a Broadway show." Jaymie says that their goal was a simple one, "to give our student performers a platform to blow their audience away and show that NIU takes a back seat to no one."

"The Simmons have given us such a valuable gift," says Simpson. "They set the stage so our audience can experience the talents of our faculty and students. They help us give the audience something to talk about on the ride home."

Simmon says he's proud to carry the torch passed to him by his parents, but is quick to point out that he doesn't do it alone. Dozens of people contribute to the Red and Black each year. From the performers to the sound techs, almost all of the event's contributors are NIU students, faculty, staff, and alumni.

Says Jaymie, "Harry and I are proud of Grant, both for his technical skill and his willingness to give back. We have tried to instill in our kids the idea that service to community is essential, and he is living up to that."

For now, Simmon is keeping busy with gigs like the Spring Awakening Festival, Bonnaroo, and the Electric Forest Festival. He is also enjoying time with his wife, Nicole, and two daughters, Grace and Nyla.

"Whatever I could give financially to NIU would surely pale in comparison with what I bring to the table with my passion," he explains. "My mom and dad always taught me that you need to give people an opportunity to give. NIU provided my opportunity to give, and I hope my work creates opportunities for others to do the same."