An Educator's Legacy: Transforming A Home Into A Scholarship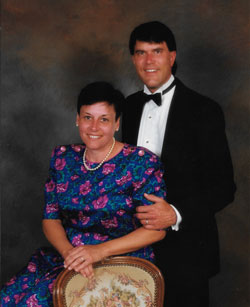 Alumna wills family home to provide NIU students with opportunities for the good life
Located in Winter Haven, Florida — a community known for its charm and sun-drenched horizons — Roberta Sell's beautiful home has been the perfect place for her to enjoy retirement. There, she and her faithful feline companion, Kayleigh, are living the good life — filled with comforts made possible by years of hard work, good choices, and the foundation of a great NIU education.
Custom-built and beautifully maintained, the sprawling stucco ranch brings Sell a great deal of pride. However, she says what makes her most proud about her home is the knowledge of what it will do for others in the future.
By naming the NIU Foundation beneficiary of her home through a trust, Sell has ensured that generations of NIU students will have the resources to build the foundation for good lives of their own. The proceeds of the home's sale will fund the Roberta and Alan Sell Family Teacher Endowment, which will provide scholarships for aspiring teachers.
For Sell, the decision to give back to her alma mater was an easy one. NIU is where she discovered her potential as a leader, made lifelong friends, and met her husband, Alan.
"NIU is where I grew up," she said.
Sell attributes her growth as a leader to her experience as floor president in Douglas Hall and president of Inter-Hall Council. The young co-ed won the highly contested floor president election running against two young men — quite a feat in a time when women were just beginning to emerge as leaders.
"It was a turbulent time on campus … there was social unrest … a lot of change. The confidence I built as a leader during this time was amazing," she said.
Sell and her husband met through a mutual friend who worked for the Northern Star, and the two quickly became inseparable.
"Alan was just always around," Sell said laughingly. "He was even in one of our dorm's official photos with all of us girls! He was a real sport. One year he rode on top of the float we decorated for homecoming." The couple married in 1979.
Alan graduated from NIU in 1977 with a degree in elementary education. He went on to the Indiana University Northwest campus to earn his MBA in 1980. Following his MBA, Alan enrolled in the NIU CPA Review course. The NIU Review helped him to pass the CPA exam on his first attempt and go on to build his career in the field of accountancy.
Sell graduated from NIU in 1976 with a degree in business education. She taught high school business for eight years in South Holland and later moved into higher education. After earning a master's degree in adult education from National-Louis University, she served at Lewis University and later at the College of DuPage, where she retired as associate dean for the areas of adult accelerated education and field experiences.
Through the years, the couple always remembered their alma mater, giving back regularly through annual gifts to the Northern Fund.
"Alan and I always knew we wanted to do something more," Sell said. "We never had any children, making NIU a natural choice for us to leave our legacy together. We just had to get creative about how we were going to do it."
Prior to Alan's passing, the couple accomplished that mission by naming NIU as beneficiary of their home.
Their gift intention comes at a time when the need for scholarships is at an all-time high. Last year, 84 percent of NIU students required some form of financial aid, and only 24 percent of them received scholarship support. Scholarships also keep great students in school. In fact, 9 out of 10 NIU Foundation scholarship recipients graduate.
As a lifelong educator, Sell believes that education is a key part of the "good life." She is excited to be in a position to provide NIU students with access to quality education through scholarship support.
"I had so many wonderful opportunities at NIU. Everyone who wants to go to school and who is capable of succeeding in college shouldn't miss the opportunity to get a college education because they can't afford it," she said.
Today, Sell is an ambassador for higher education. Sitting at her computer, using social media, she makes a point to sing the praises of her university on Facebook and to encourage others to do the same.
"I like to remind people that our universities made us who we are today. They launched our careers," she said. "I think it's important that we all remember our alma maters in our charitable giving."
Student scholarship support is an important area of need at NIU. If you would like to help current and future Huskies like Nehal, please visit go.niu.edu/give2niu today to make your gift in support of the Student Scholarship Fund.