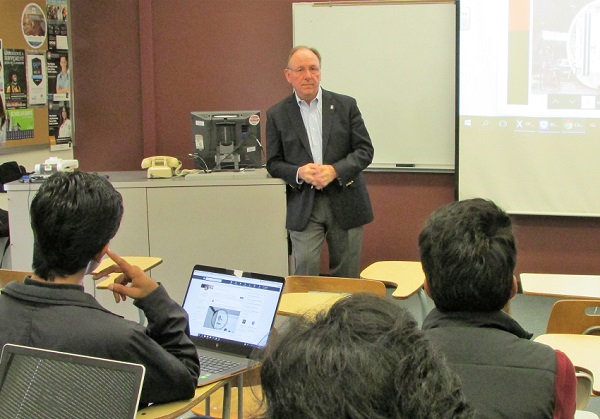 Alumni Connecting With Graduate Students
Because of a new NIU professional development program, graduate students have the opportunity to connect with alumni to learn about the job skills that they'll need.

As part of a new and innovative professional development program offered through the Graduate School, students can take a class that connects them with alumni in their fields so they are aware of the job requirements and have the best advantage to land a job.

"We're helping graduate students get jobs," said Gary Baker, co-coordinator of the Graduate Career and Professional Development Office and a Northern Illinois University professor. "We're trying to make them more competitive in the market by making them aware of what skills employers are looking for."

Alumni are key in helping students get an insight on what their field is demanding and how the job market is changing. To develop connections with alumni, students are shown how to use LinkedIn as a networking tool to find alumni who have jobs of interest to them and are encouraged to conduct 15- to 20-minute interviews.

The program coordinators are looking for alumni who are willing to be interviewed. Interested alumni can fill out this form, which takes just a few seconds to complete.

The new class, Career Development and Planning (Univ 601), is also an outlet for graduate students to optimize their LinkedIn profile and explore jobs of interest, top employers, regional demand and salary trends.

The Graduate School has partnered with LinkedIn Learning, an online learning platform, so students can discover and develop their skills. The platform is similar to Lynda.com and both are owned by Microsoft.

Another tool used is Burning Glass Technologies software to provide labor market data to students and advise them on career decisions. A package is tailored for each student with information on top jobs, regional demand, salaries, top employers, the skills sought by employers, entry-level positions and other valuable data.

Baker and professor Beth Wilkins, who also coordinates the program, have developed a community portal that graduate students can access with their student zIDs using NIU's Office 365 SharePoint. The portal allows students to gain access to the NIU Career Development Pathway, which offers graduate career and professional development services and resources as it follows a student's progress.

Since the course is designed for early- to mid-phase students in a master's or doctoral program, Baker and Wilkins hope to have a second course in place by next fall to benefit mid- to late-phase graduate students. That class will help students with skills such as interviewing, resume and curriculum vitae preparation, and salary negotiations.

The program, which provides support services to 4,100 graduate students, is on the cutting edge in professional development, Baker said.

"We're a Research 2 university doing what a Research 1 university provides for their students," Wilkins said.

Northern Illinois University was among top research universities this summer at the Graduate Career Consortium's annual conference, where Baker and Wilkins presented a technical session on their program.