Gil Ankenbauer on giving back to the department that gave him so much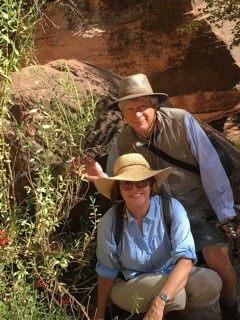 Alumnus hopes his gift will encourage others to give

When reflecting on his life, Gil Ankenbauer (B.S. '73, M.S. '75) identifies his time at NIU as transformational in more ways than one. NIU is where he studied under Dr. Samuel S. Goldich and developed his passion for geology; it's where he made and deepened friendships that would follow him through his long and successful career in the oil and gas industry and; most importantly, it's where he met and fell in love with his wife, Jenny.

"I met Jenny in Davis Hall in the Geophysics Department," Ankenbauer recalls. "She was an undergraduate, special education major, working as a student employee for Dr. Lyle McGinnis. As a graduate student, I was there to invite Dr. McGinnis' students and staff to a "Penguin Party" that Dr. Goldich was hosting before the research season in Antarctica." The party was actually being held at the house Ankenbauer shared with two of his friends, who were also graduate students performing research on Precambrian migmatites in the Minnesota River Valley with Dr. Goldich.

As an undergraduate, Ankenbauer spent every weekend traveling home to the Chicago suburbs to work in order to pay for school. After completing his undergraduate degree in 1973, Ankenbauer remained at NIU to pursue his master's degree after being recruited by Dr. Goldich. It is the education and support he received from NIU that he credits with his successful 40-year career with the Chevron Corporation.

"At NIU, I obtained a strong education in practical geology fundamentals. The field camp allowed me to apply everything I had learned in undergraduate school from my professors. Grad school taught me to problem solve, write technically and defend my results," he says.

As the 50th Anniversary of the Geology Department approaches, Ankenbauer has taken this opportunity to reflect on the important milestone.

"The 50-year Anniversary is an important milestone for the Department and for me too. It caused me to reflect on my life and the significant impact that being a student under Dr. Goldich and obtaining geology degrees from NIU has had which makes me think that I am very fortunate," he says.

In honor of this exciting time in the department's history, and with an eye on securing the department's future success, the NIU Foundation is announcing the launch of the Campaign for Geology and Environmental Geosciences. Ankenbauer and his wife are joining the campaign with their own unique challenge.

"Jenny and I are proud to announce that we are partnering with the department and issuing the '50 for 50' Challenge. We pledge to match dollar-for-dollar every gift to any fund within the department up to $50,000," Ankenbauer says.

"The Department needs our help and depends on philanthropy because of significant decreases in state and federal funding support," he continues. "I hope that the 50th Anniversary Campaign will exceed its financial goal for support and connect alumni, faculty and students. Gifts and donations from a successful campaign will provide a long-lasting change for the department, faculty and students."

Ankenbauer has a message for his fellow geology alumni: "Since it is a SMALL geology department, your gift will make a BIG impact. Helping others enriches you, you will get a great deal of satisfaction by knowing that you have helped students in the same way you were helped when you were a geology student at NIU. You will give them confidence to successfully achieve their career goals through your inspiration and support."

When asked what his greatest expectation is for NIU graduates, he replies, "To MAKE a DIFFERENCE in whatever they do and to CHALLENGE themselves to push back barriers."

You can make a difference in the geology department by making your gift to support any of the geology and environmental geosciences funds in the NIU Foundation. Make your gift today and help ensure tomorrow's success. Find out more about the Campaign for NIU Geology and Environmental Geosciences at go.niu.edu/geology50.