Always a Huskie: Sally Stevens extends her tradition of generosity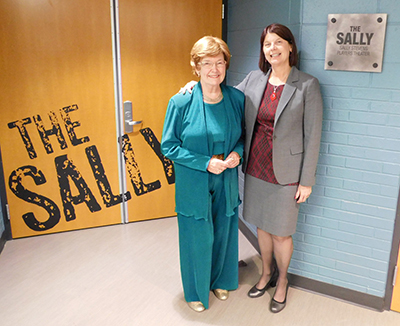 After a quarter-century of extraordinary generosity to NIU, Sally Stevens has taken her giving to another level in the hopes of inspiring others to follow suit.
Her estate gift to the NIU Foundation will forevermore provide scholarships to support countless students who have financial need.

The bequest comes on top of steady aid she has already provided, including an endowed scholarship to the College of Visual and Performing Arts. Established in 1996, that scholarship provides annual support to three students, one each in the School of Art and Design, the School of Theatre and Dance, and the School of Music.

Stevens grew up during the Great Depression and while her family wasn't among those hardest hit economically, it left a lasting impression. "I knew the worth of money and that I had to be careful with it," she said. "And I learned that when you do have something to give to those in need, it's time to help."

"I am grateful for having had a great life," Stevens says. "I'm still a Huskie."

For Stevens, the giving is an outflow of the heartfelt bonds she developed over a 32-year career working at NIU. In that span, she served as secretary for six NIU presidents. Along the way, she enjoyed many musical, theatrical and other cultural performances on campus.

Funding through her endowed scholarship has helped more than 70 talented students who are in pursuit of degrees in the College of Visual and Performing Arts. And, in honor of her support, a second-floor theater in the newly renovated Stevens Building is formally called the Sally Stevens Players Theater, also affectionately known as 'The Sally.'

Stevens attended the first performance in the theater, a production called "Bakkhai." She was especially proud that the most recent recipient of the scholarship she funded in the School of Theatre and Dance, Courtney Gronewold, served as "Bakkhai's" assistant director.

"I am just amazed at the caliber of students each year who receive these awards," Stevens said. "These are the ones that we want to go on and change the world."