101 Year Old Alumna and Donor Reflects Fondly on Her Time at NIU
NIU alumna Helen Woods Milligan, '41, still gives back to her alma mater as a donor nearly 80 years after leaving campus. Helen, who recently turned 101 and now lives in Colorado near family, graduated from Northern Illinois State Teachers College with a teaching degree only months before the U.S. entered World War II.

The NIU campus has grown quite significantly since Helen graduated. In 1941, NIU, led by President Karl L. Adams, had a campus that included only Altgeld Hall, McMurry Hall (then a training school for education majors), Williston Hall (then a women's dorm), and Still Hall.

Helen was born in Freeport, Illinois, on April 15, 1918, and was raised there all her life, according to her granddaughter Ella Milligan. Helen met her husband, Carl, in the fourth grade, and they were together until Carl's death in March of 1978. When Carl died, Helen moved to Rockford and then in 1989 she moved to Colorado to be near family.

While growing up in Freeport, her family lived in town and lived off their garden and fruit trees during the Great Depression, Helen said. While her eldest brother was born at a nearby hospital, she and her two other siblings were all born at home, she said.

When Helen attended NIU, she lived in a house known as the Redmond House a few blocks off campus, she said.

"There were six of us girls and we had the upstairs. We did all of our own cooking etc.," Helen said.

The women had a 10 p.m. curfew and no boys were allowed in the house, Helen said.

Although the United States didn't enter World War II until the attacks on Pearl Harbor in December 1941, Helen said while she was at NIU "wartime was in the air."

"Some of the boys were already leaving school for the service," she said.

Helen said one of her roommates at the Redmond House, Eva Blanche Johnson of Walnut, Illinois, became a lifelong friend and they kept in touch until Eva's death a few years ago.

When she was attending NIU, Helen was involved in an organization called the Town Girls, which the 1941 volume of The Norther yearbook describes as an organization "with more than 200 college women" participating in events like a Sadie Hawkins Mixer in the fall and an annual semi-formal dance in the spring featuring Griff Williams' orchestra and a theme of "the gay trappings of circus life."

Helen was also involved in an organization called the Carney Club, which the yearbook described as a club to "promote understanding and interest in rural life and education."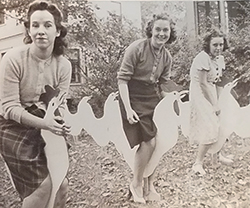 Helen described a project making unique decorations for Homecoming, which consisted of a group of fake roosters. ("The culmination of weeks of preparation bring coveted prizes to the Fine Arts Club float and Redmond House decorations," The Norther states on a page dedicated to that year's Homecoming festivities.)

"We made the large roosters for Homecoming with a large sign: 'Something to Crow About,'" Helen said. "We won third prize in the Homecoming parade. (One year) we had a large flatbed truck with some of the fellows milking a cow, with the sign 'Pulling for NIU.' We got first place for that one."

After finishing her studies at NIU with a two-year degree, Helen attended another four-year school and completed a degree there, but she considers NIU to be her "home school."

"She was saying last night that when she thinks of school at that time in her life, she thinks of Northern Illinois – she doesn't think of this other place," her granddaughter Ella Milligan said.

Following her schooling, Helen taught mostly kindergarten during a 20-year teaching career in Freeport, Ella said.

Helen has three children – two sons and a daughter – and 11 grandchildren, along with "several" great-grandchildren, she said.