Highlights of Southern Spain and Madrid

Dates: 3/10/2022 to 3/18/2022
Trip Details
Spain's southern region is known for its beautiful landscapes, mild climate, numerous historic monuments, distinctive cultural life, unique architecture and fine arts. In Granada, we'll visit the fabled Alhambra, a brilliant jewel of Moorish architecture with its compound of palaces, fortress and lush gardens. In the Andalusian Mountains, we'll stop in Ronda to see sacred monuments, a modernist palace built at the beginning of the 20th century, and the second oldest bullring in Spain.

Seville offers the Cathedral of Saint Mary of the Sea, one of the largest and richest gothic Cathedrals in Christendom, and the 14th century Alcazar with the Archives of the Indies, the building that houses all of the famous drawings of the New World including letters by Columbus and Queen Isabella.

Additional highlights of this trip include high-speed train travel to Madrid, Toledo and a damascene workshop and a Flamenco dinner show.

Madrid is not only the capital of Spain but also one of the richest culinary capitals of Europe. Madrid offers a rich heritage, and is an art lovers dream with a treasury of artistic experiences and art collections galore.

Discover the history and picturesque beauty of Southern Andalusia along with the exuberance of Madrid on this inspiring itinerary.

Please contact Pat Anderson at 815-753-1512 or panders1@niu.edu to check on availability for this trip.
Details...
The trip includes:
• Round-trip airfare from Chicago
• Accommodations and ground transportation
• Buffet breakfast daily, one afternoon lunch and five evening dinners
• Overnights in Granada, Ronda, Seville and Madrid

Click here to download the trip brochure

Dates: March 10 - 18, 2022
Cost: $4,185 per person; single supplement $700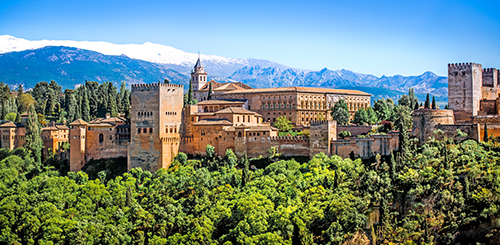 Travel insurance is very important to protect your trip investment. Please review the recorded webinar "Travel Insurance: What You Need to Know for Your Next Trip," prepared by our partners at USI Insurance Services, for more information on travel insurance.
The password for the webinar is TravelInsurance2021.