The Heart to Care and Knowledge to Help: DaQuan Russell-Watts, NIU Foundation Impact Scholar

​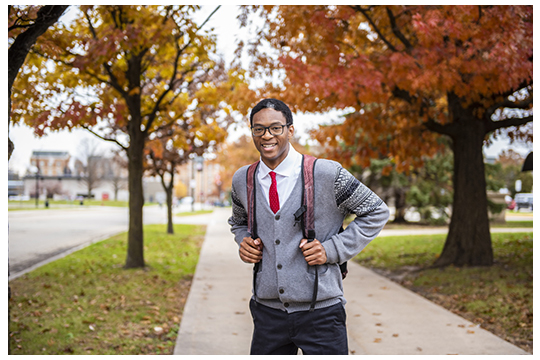 DaQuan Russell-Watts was born with a natural curiosity and love of learning. When his mother was diagnosed with breast cancer, he turned to learning to cope and discovered his passion for anthropology.

"As a child, I found it fascinating to learn about how people from different parts of the world interact. I love to meet people from different backgrounds and enjoy learning about their customs."

Today, DaQuan is charting new territory as the first in his family to attend college. He is a junior at NIU, majoring in anthropology and minoring in biology and chemistry. He dreams of a future career as a forensic anthropologist, where he can use his inherent curiosity to aid in disaster relief efforts. He is confident that NIU will help him succeed.

"NIU is shaping me into a capable scientist, leader and humanitarian with the heart to care and the knowledge to help," he says.

DaQuan's journey wouldn't have been possible without the help of a well-timed scholarship. When DaQuan's limited resources threatened to derail his plans, a scholarship from the NIU Foundation helped him stay on track.

"The scholarship I received from the NIU Foundation allowed me to continue attending NIU. It has removed the burden of worry about finances and allowed me to focus more on my coursework. Most importantly, it has given me a sense of achievement."

DaQuan is eager to tell donors how grateful he is for their support:

"Thank you so much for believing in me! Your investment inspires me to work harder, knowing that I cannot let this opportunity go to waste."