Transfer students from community colleges will receive the financial assistance that they need to complete their degrees, thanks to a generous $500,000 donation from the CME Group Foundation.
Over the next two years, the funds will support a total of 13 Northern Illinois University students who are accepted into a field of study that leads them to a career in the financial industry. The scholarship recipients are required to have at least a 3.25 GPA, must show need through Pell Grant eligibility and will represent a diverse population. The scholarships will cover all of their tuition and room and board.
All five of the first cohort of students in the scholarship program told similar stories about how they have increased their chances to be successful in their fields.
As one of the first CME Group Foundation scholars, Luis Arredondo admits that getting accepted to NIU and being chosen for the scholarship program happened because he was willing to take a risk.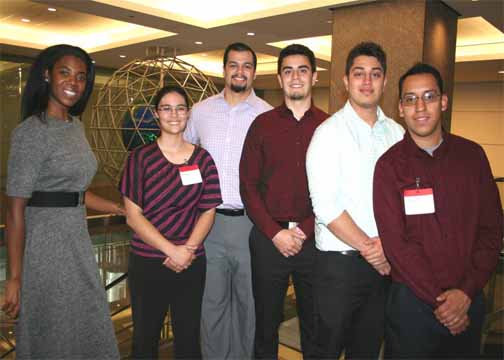 Christy Cunningham (left), program director is pictured with the first group of CME scholars: Alisa Carrillo, Alejandro Perez, Mark Gonzalez, Remigio Nanez and Luis Arredondo.
"When I was in community college, I actually was not planning on getting a bachelor's.
I was going to stop there and do information technology work," Arredondo said.
"Part of the reason was because of the money," he added.
Arredondo had gained exceptional technological skills because he had worked for five years, earned IT certification and completed programming classes to get his associate degree in computer information systems from Morton College in Cicero, Illinois, his hometown.
However, he thought he could do better and decided to pursue a bachelor's degree in computer science at Northern.
Both finance major Mark Gonzalez of Chicago and accounting and finance major Remigio Nanez of Mendota, Illinois, said their fathers wanted them to become
auto mechanics to have a guaranteed job. Like Arredondo, they decided to be the first in their family to pursue an undergraduate degree.
Besides free schooling, the students are entitled to special support services, including research experiences, networking opportunities, leadership development, business etiquette instruction and personal branding workshops. They are in a living-learning community at Gilbert Hall so they can socialize and study with each other and have greater access to professors in their disciplines. Majors that qualify for the program include computer science, applied math, economics, finance, and operations and information management.
They also will be considered for summer internships at the CME Group, the world's leading derivatives marketplace that brings together buyers and sellers who need to manage risk or want to profit by accepting risk.
"We're pleased to partner with NIU to increase the participation of minority students in the financial services industry," said Jim Oliff, chair of the CME Group Foundation. "Our foundation recognizes that we can help first-generation students who are looking for an opportunity, and we want to improve on their likelihood of success. Supporting these students through college is important to us."
Scholars from NIU toured CME headquarters in the Loop last fall and met several NIU alumni who work there. After listening to Oliff and other staff members, the students were impressed with the internship possibilities and the advanced technology used at CME's Global Command Center.
CME staff stressed the importance of finding internships early as an undergraduate and told students that they will be more valuable on the job if they combine finance and information technology skills.
"As a leading financial technology company, CME Group is looking to cultivate job candidates with skills across computer science, math, economics and finance," said Steve Goldman, CME's senior director of technology planning and an NIU computer science graduate. "We're interested in finding talent that is skilled in all of these disciplines rather than just IT alone. And this scholarship program sponsored by the CME Group Foundation is one of the ways we demonstrate our commitment to helping the next generation of financial industry professionals achieve the skills necessary to succeed."
"What I found interesting at CME is that I didn't realize how technology and finance are so correlated," said Alejandro Perez, a finance major and first generation college student from Romeoville, Illinois.
Perez already knows the value of internships since he worked for Bosch last summer as a sales intern. To improve his leadership skills, he volunteers at NIU's Latino Resource Center in the mentoring program, which assists freshmen with their transition to college.
The CME scholarship is important to him, he said, because it recognizes his academic accomplishments and takes the pressure off his parents. NIU was also the right choice because classes and extracurricular activities have helped him overcome shyness. "I used to be very introverted," Perez said. "NIU actually helped me with that a lot. I took classes that worked in groups, so I had to collaborate as part of the team."
With this scholarship, Nanez said, he can focus more on his studies and networking opportunities since he doesn't have to work part time. To increase his success, he interned at Jackson Hewitt last year and has joined the NIU Investment Association and business fraternities – Beta Alpha Psi and the Association of Latino Professionals for America. The fraternities offer networking events with employers and learning opportunities from professionals.
As the only female in the program, Alisa Carrillo of Lincoln, Illinois, said the scholarship is invaluable to her because she was putting herself through college. While attending Hartland Community College in Normal, Illinois, she worked two jobs, at a family restaurant and the front desk at Hartland.
Carrillo is working on campus part time in the foreign language department to pay for living expenses as she works on a degree in computer science. Without the scholarship, she said, she would have taken on a second job.
NIU offers many different emphases in the computer science program compared with other colleges, Carrillo said.
A study released by The Education Trust in December 2015 shows that while colleges are increasing graduation rates across the board for all races, minorities are still trailing. The graduation rate for white students in 2013 was 64 percent, compared with 50 percent for minority students, according to the study.
The scholarship program from the CME Group Foundation is an effort to help students complete their degrees and achieve career success.
"For example, our scholarship program can provide emergency funds to ensure that we're not losing students due to unexpected financial pressures at home," Oliff said. "Even with the help of Pell Grants or other resources, unexpected events can create financial strains that cause students to drop out of college. We recognized that need and structured our program to ensure that the flexibility is there to help these students accordingly, not only when tuition is due."
The CME Group Foundation works to advance the economy by supporting education from cradle to career, primarily in the Chicago region. The foundation partners with universities, school districts, charter networks and nonprofit organizations to assist students, including providing effective K-12 education to prepare disadvantaged students for success in college and helping university students reach careers in financial services and risk management.
"CME Group Foundation's support, coupled with alumni involvement, helps achieve multiple goals for student career success – financial assistance, experiential learning and mentoring," said Catherine Squires, president and CEO of the NIU Foundation. "CME's example provides an inspiration for other companies to determine how best they too can make a difference in helping students become a part of their future workforce."
For more information about the scholarship, contact April Arnold, director of corporate relations and foundations for the NIU Foundation, at aarnold1@niu.edu.